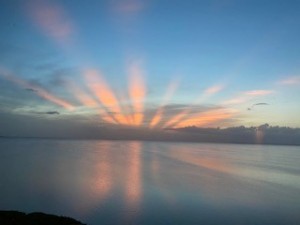 I know that many of us pray the prayer to St. Michael the Archangel on a daily basis and I encourage us to continue to seek his protection against the evils we see in the world. I encourage everyone to pray this Novena to Saint Michael the Archangel and make June 15, 2021 a Day of Prayer for the special intercession of Saint Michael the Archangel. We see much evidence of "evil spirits prowling about the world seeking the ruin of souls" in our world today. We always remember that Jesus Christ has conquered sin and death by means of His loving sacrifice of His Body and Blood but the power of evil can still plague us if we allow it to. Many today foolishly treat evil and demonic realities as if they were playthings. The truth is that evil forces are very real and as the St. Michael prayer says they are always looking for opportunities to harm us.
Let us be joyful and strong in the Lord but also wary of the reality of satan and his minions.
I chose the attached image of a sunrise to accompany this post because it evokes the image of light pervading our world. Jesus Christ is Light from Light and true God from True God. Although the evidence of darkness and evil is all around us the Light of Christ is still the true power of God's Love and Goodness. Let us be strong in Him.
praymorenovenas.com/st-michael-archangel-novena
---
Bishop Strickland

Bishop Joseph E. Strickland was named the fourth bishop of Tyler in September of 2012 by Pope Benedict XVI. Prior to being named bishop, he served a number of roles in the diocese, including vicar general, judicial vicar, and pastor of the Cathedral parish. He was ordained to the priesthood in 1985.