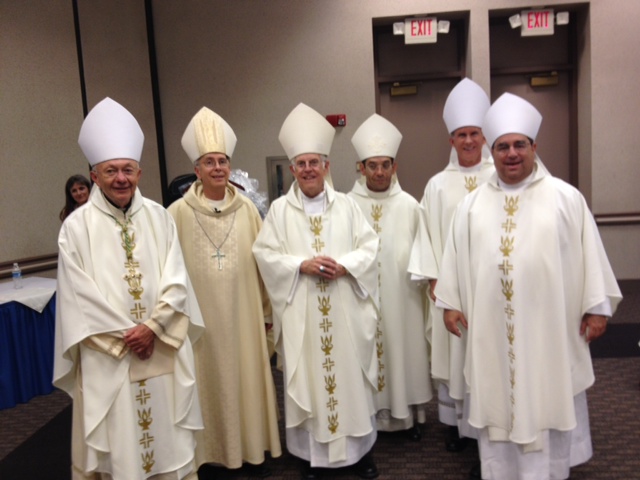 This photo was taken on July 9, 2013 at the Installation of Bishop Mark Seitz as Bishop of El Paso. It also happened to be the birthday of Archbishop Michael Sheehan third from the left. Archbishop Sheehan was rector at Holy Trinity Seminary in Irving, Texas during the seminary formation of the five bishops pictured. It was great to have us all together.
The bishops pictured are from left, Bishop Doug Deshotel, Auxilary Bishop of Dallas, Bishop Mark J. Seitz, newly installed Bishop of El Paso, the Archbishop, Bishop Daniel Flores, Bishop of Brownsville, yours truly and Bishop Michael Duca, Bishop of Shreveport. Archbishop has been a great mentor to all of us and to many other priests that he helped to train during his 6 years at Holy Trinity.
While I was in El Paso about 300 parishioners and supporters drove to Austin in support of legislation to help limit abortions in Texas.
How's that for a multitasking diocese! Way to go Cathedral and those who joined in the trip. The pictures indicate that it was not only a holy trip but a pretty fun time too!
---
Bishop Strickland

Bishop Joseph E. Strickland was named the fourth bishop of Tyler in September of 2012 by Pope Benedict XVI. Prior to being named bishop, he served a number of roles in the diocese, including vicar general, judicial vicar, and pastor of the Cathedral parish. He was ordained to the priesthood in 1985.