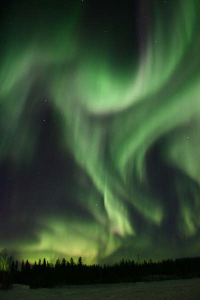 The attached image is called "Amazing Lights", it seems especially appropriate as we celebrate the 104th Anniversary of the appearance of Our Lady at Fatima in 1917. Interestingly these amazing lights are especially active as we celebrate this important date.
In 1910 only a few years before the Miracles at Fatima, which also carried dire warnings for humanity, Pope St. Pius X issued the "Oath Against Modernism" printed here.
"I sincerely hold that the doctrine of faith was handed down to us from the apostles through the orthodox Fathers in exactly the same meaning and always in the same purport. Therefore, I entirely reject the heretical misrepresentation that dogmas evolve and change from one meaning to another different from the one which the Church held previously. I also condemn every error according to which, in place of the divine deposit which has been given to the spouse of Christ to be carefully guarded by her, there is put a philosophical figment or product of a human conscience that has gradually been developed by human effort and will continue to develop indefinitely."
At the time Pope St. Pius X issued it he directed that all clergy, pastors, confessors, preachers, religious superiors, and professors in philosophical-theological seminaries must swear this Oath. This directive is no longer in force but as Bishop of the Diocese of Tyler I urge all clergy, religious and laity to embrace it as a statement of faith. Sacred scripture, magisterial statements, hymns and prayers have echoed this basic faith through the ages. The Letter to the Hebrews 13:8 "Jesus Christ is the same yesterday, today and forever" gives us a clear statement of the Word of God which echoes the meaning of the Oath Against Modernism. Let us cling vigorously to this faith which no power on earth can destroy.
Bishop Joseph E. Strickland
---
Joseph Strickland

Bishop Joseph E. Strickland was named the fourth bishop of Tyler in September of 2012 by Pope Benedict XVI. Prior to being named bishop, he served a number of roles in the diocese, including vicar general, judicial vicar, and pastor of the Cathedral parish. He was ordained to the priesthood in 1985.