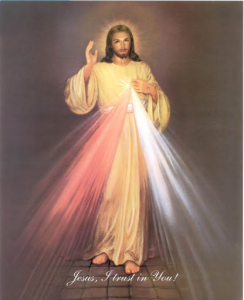 I wanted to share some further information regarding how to get the most benefit from Divine Mercy Sunday, the 2nd Sunday of Easter, on April 16, 2023.
Divine Mercy Sunday Whoever approaches the Fount of Life on this day will be granted complete forgiveness of sins and punishment. As revealed to St. Faustina by Jesus.
2:30PM—Holy Hour 3:00PM—Chaplet of Divine Mercy, Benediction
Conditions to obtain the full benefits of Divine Mercy on this Feast day: 1. Celebrate the Feast on the Sunday after Easter; 2. Sincerely repent of all your sins; 3. Place complete trust in Jesus; 4. Go to Confession* preferably before that Sunday; 5. Receive Holy Communion on the day of the Feast; 6. Venerate the Image of Divine Mercy; 7. Be merciful to others, through your actions, words and prayers on their behalf. *Confession may take place 20 days before or after the Feast of Divine Mercy.
---
Bishop Strickland

Bishop Joseph E. Strickland was named the fourth bishop of Tyler in September of 2012 by Pope Benedict XVI. Prior to being named bishop, he served a number of roles in the diocese, including vicar general, judicial vicar, and pastor of the Cathedral parish. He was ordained to the priesthood in 1985.