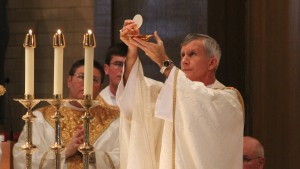 Dear Brothers and Sons in the Diocese of Tyler,
As we continue to deal with the many issues which impact our families, parishes and missions in the Diocese of Tyler and as we continue this journey of the Year of the Eucharist I am directing every priest to conduct a Eucharistic Procession in the communities that they serve sometime before the Solemnity of St. Joseph Spouse of the Blessed Virgin Mary on March 19, 2020. The intentions of this Eucharistic Procession including asking Our Lord's protection from the Coronavirus and healing for those who have already been infected; mercy and eternal rest for those who have died. Also petitioning Our Lord for strength for our families and the fortitude to be guided by the truths of the Deposit of Faith and the ethical and moral truths they represent. May the model of faith that St. Joseph provides as Patron of the Church inspire these efforts.
I ask that priests plan a simple procession using the following basic guidelines.
1. After a Sunday or weekday Holy Mass invite a small group to participate in a simple procession with the Blessed Sacrament lead by the priests, assisted by deacons if available, and servers.
2. The path of the procession should be on the property of the Church with no civil permits being necessary.
3. Proper reverence for the Blessed Sacrament is paramount but the procession does not need to be elaborate, the priest in alb and cope with two servers is all that would be required. If a Deacon is involved, an alb and stole. If a parish is able to have a more elaborate procession that is acceptable but not necessary.
4. Safety for all involved is essential thus the numbers should be limited to a representative group of the parish. Other faithful who want to participate should be encouraged to remain in the Church and pray as the procession leaves the Church, remaining there to welcome the return of Our Lord after the procession.
The primary purpose of this procession is prayer and raising our awareness that the Lord is truly with us. Let us turn to Him as Lord of Lords and as always ask His Blessed Mother to join us in prayer interceding on our behalf at the throne of Our Heavenly Father.
God bless you and God bless the Diocese of Tyler.
In Christ's Name,
Bishop Joseph E. Strickland
---
Bishop Strickland

Bishop Joseph E. Strickland was named the fourth bishop of Tyler in September of 2012 by Pope Benedict XVI. Prior to being named bishop, he served a number of roles in the diocese, including vicar general, judicial vicar, and pastor of the Cathedral parish. He was ordained to the priesthood in 1985.