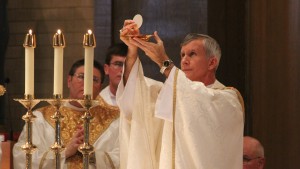 Please find a new letter attached which explains more fully the beauty of the Eucharist which I spoke of in my letter issued on August 22, 2023. Let us all seek a deeper relationship with Our Lord Jesus Christ in His Eucharistic Face.
Pastoral Letter 3 Sept. 12.pdf
---
Joseph Strickland

Bishop Joseph E. Strickland was named the fourth bishop of Tyler in September of 2012 by Pope Benedict XVI. Prior to being named bishop, he served a number of roles in the diocese, including vicar general, judicial vicar, and pastor of the Cathedral parish. He was ordained to the priesthood in 1985.