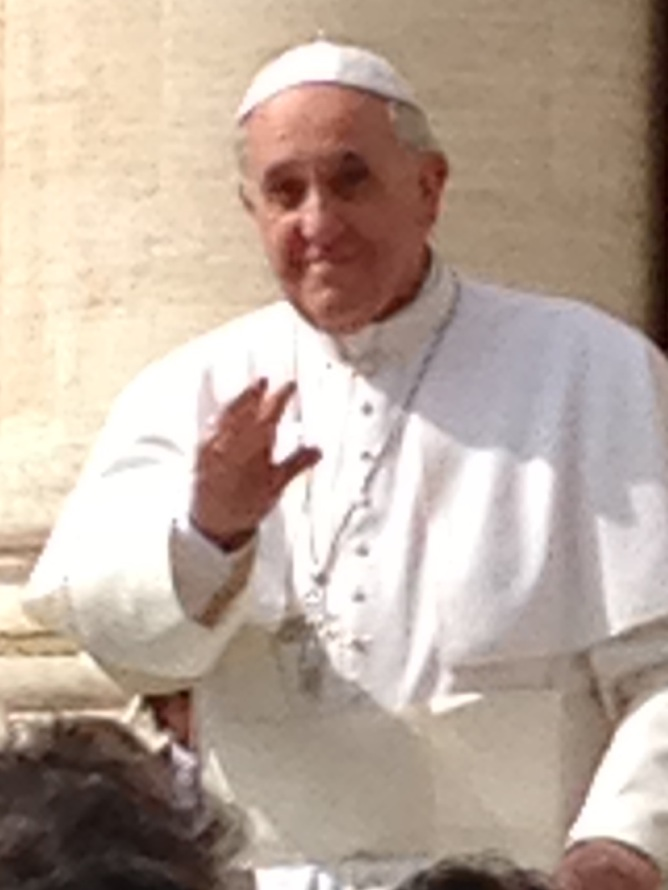 I was blessed with the opportunity to meet Pope Francis at his audience in St. Peters Square on April 10. His presence at the audience was truly a reflection of all that we have heard and read about this man since his election to the See of Peter in March. It was truly a joy to see him interact with the people at the audience. As you can imagine it was quite an experience for me as a newly ordained bishop. I have been blessed to shake the hand of John Paul II, Benedict and now Pope Francis. In the interest of full disclosure ALL I did was shake the hand of Pope John Paul II. I was a seminarian at the time and was just lucky enough to shake his hand as he moved through the crowd. I at least was able to exchange a few words with Pope Benedict and now with Pope Francis. Each of these men are very different individuals but as the succesors of St. Peter they all bring unique gifts to their Petrine ministry.
My experience on April 10 stands in stark contrast to the events of April 15 and April 17. First the horror of the bomb blasts at the Boston Marathon and then the devastation of the explosion of the fertilizer plant in West, Texas left us all reeling and deeply saddened.
I suppose my reflection is that all three events speak to us of the deep meaning of these Easter days we continue to celebrate. My encounter with the Vicar of Christ was a moment of great hope and excitement. The bombing in Boston represented the darkest of diabolical intentions that sadly can spring from the human heart. The explosion in West (apparently totally accidental) reminds us of the frail and uncertain world we live in at all times. They come together to remind me that Our Lord and Savior has truly encountered the world we live in and has brought everlasting light that penetrates the deepest darkness. Christ is our Light. Christ is our Hope. Christ is our Joy. Let us pray that whatever happens we will always turn to Christ. Let us turn to him when we are joyful to acknowledge that He is the source of all joy. Let us seek Him when we are frightened and remember that He is our refuge. Let us turn to Him when we are shocked and confused and remember that He is the Lord of Truth.
I have asked our parishes to take up a special collection that we will send to the Diocese of Austin to support those who are suffering in the aftermath of the explosion on Wednesday. I know our wonderful people will be generous with their resources and with their prayers.
May the souls of the faithful departed rest in peace.
---
Bishop Strickland

Bishop Joseph E. Strickland was named the fourth bishop of Tyler in September of 2012 by Pope Benedict XVI. Prior to being named bishop, he served a number of roles in the diocese, including vicar general, judicial vicar, and pastor of the Cathedral parish. He was ordained to the priesthood in 1985.