I thought I would share a few words of personal reflection on this historic day on which the Holy Father has announced his resignation effective February 28, 2013. As you can imagine it created a whole new layer of activity on my calendar which was already fairly busy. I can imagine that it will become one of those moments when I will remember exactly where I was when I received the news.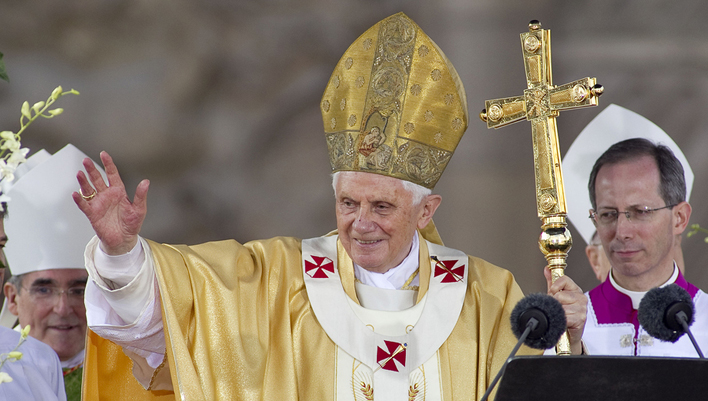 Although as you probably have read by now the resignation of a Pope is not completely without precedent it certainly is uncharted territory for the modern history of the Church. As various people have asked about my reaction and my thoughts in light of this announcement I suppose I have begun to focus on the following.
I am impressed by the humility and the deep faith of this man who has served for the past eight years as Pope Benedict XVI. Although of course the work of the Pope is a tremendous burden it is also an office with great prestige. I am impressed that Pope Benedict has seen fit to relinquish all of the "position" that the papacy entails for what he believes is the good of the Church.
This news calls us to prayer especially as we will soon enter into the Retreat of the Church known as Lent. As we receive Ashes this Wednesday we will be reminded in a different way that we are "dust and unto dust we shall return". The resignation of the Holy Father is in a beautiful spiritual sense another example of dying to this world in order to seek the everlasting life the Lord came to share with us. I hope that we can all pray in thanksgiving for this good man, Joseph Ratzinger, who has served the Church as His Holiness Benedict XVI, that he many continue to be a vibrant part of the Church he has loved so well.
The announcement of the Holy Father's resignation also reminds us that the Church continues her journey through history guided by the Holy Spirit. The unique nature of our Roman Catholic Faith is that we do not ultimately have an earthly head. Instead our head is Jesus Christ our Lord and Savior. Although this transition is unusual it reminds us that is simply is another transition in regard to the earthly leadership of the Church. Whether a Pope dies or resigns it is always true that they are only temporary, the Lord and the guidance of the Holy Spirit is our constant.
Let us pray for the Cardinals who will soon be traveling to Rome to meet in Conclave. They are only human but with the Lord's promise that His Holy Spirit will always guide His Church they take on a very special role as instruments of the Lord. Let us pray that they will keep Him always before them as they deliberate. Our own Daniel Cardinal DiNardo will join them and for the first time a Cardinal from Texas will participate in the election of the Bishop of Rome.
Please be assured of my prayers as we enter into the Lenten Season and once again experience history making events in our lives.
+Joseph
---
Bishop Strickland

Bishop Joseph E. Strickland was named the fourth bishop of Tyler in September of 2012 by Pope Benedict XVI. Prior to being named bishop, he served a number of roles in the diocese, including vicar general, judicial vicar, and pastor of the Cathedral parish. He was ordained to the priesthood in 1985.