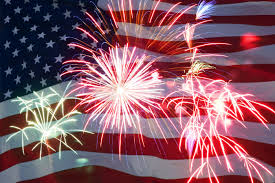 As the fireworks of another 4th of July celebration fade I pray that all of you are blessed and have had the opportunity to celebrate with family and friends.
It seems that we live in a time of great contrasts and at times great contradictions. As we celebrate Independence Day for our nation let us do so as people always rooted in faith. The glow of the fireworks for this 4th of July shed light on a nation in great turmoil in regard to the basic values that have been the foundation of our society since its inception. Our forbearers spoke of rights endowed by the Creator yet many today deny the existence of our Creator or at least want to ignore His commandments. Every society from Sodom and Gomorrah, to the Roman Empire, to Nazi Germany, to Communist Russia that has chosen to ignore God has ultimately crumbled into dust. We have to pray that we may learn from the errors of the past while trusting that "even if only ten are faithful" God will sustain us in His mercy. Let us choose daily to be among those faithful few no matter how deeply our society falls into error.
I recommend a brief article by Archbishop Charles J. Chaput entitled "Christian Witness and America's Birthday". It was shared with me and can be accessed on Zenit.org.
I'm grateful for the fidelity of prayer and action that I continue to witness in the people of the Diocese of Tyler. Many have participated in various efforts of prayer on the public square promoting the sanctity of life, the value of traditional marriage and the need for a just immigration policy for our nation. As I share these reflections a group is organizing to make a pilgrimage to Austin in support of our legislator's efforts to at least eliminate abortions in our state after twenty weeks of gestation. It is a sad commentary that we have to fight so hard for this minimal protection for the unborn but fight we must and I commend those who are organizing this prayerful and peaceful effort to uphold the sanctity of life.
If you are interested in participating in this trip to Austin you can contact Mr. Jim Franz via the Bishop Gorman School website bishopgorman.net or Fr. Justin Braun at the Cathedral at thecathedral.info
Lest we grow despondent because of the apparent crumbling of values we need to also note the tremendous signs of God's grace unfolding in our lives. The contrasts and contradictions I mentioned above are highlighted in the fact that this 4th of July also finds us contemplating the announcement that two popes that have served in the last fifty years are to be canonized as saints. Blessed John the XXIII and Blessed John Paul II are both to be elevated to sainthood, likely before the end of the year. The miracle that allows Blessed John Paul II to take this final step has been described as "truly astounding". Hopefully those words remind us that the power of God's grace always has been and always will be truly astounding. Let us continue our journey of faith encouraged and challenged to live our lives always seeking the Grace of God.
---
Bishop Strickland

Bishop Joseph E. Strickland was named the fourth bishop of Tyler in September of 2012 by Pope Benedict XVI. Prior to being named bishop, he served a number of roles in the diocese, including vicar general, judicial vicar, and pastor of the Cathedral parish. He was ordained to the priesthood in 1985.