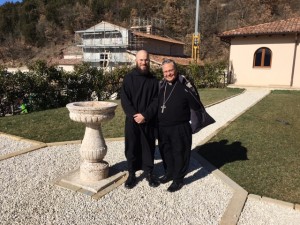 Fr. Martin Bernhard and Bishop Eduardo Nevares visiting in Norcia, Italy at the Benedictine Monastery where Fr. Martin is now a Monk. You may remember Fr. Martin as Fr. Brandon Bernhard who was ordained for the Diocese of Tyler and then discerned a call to the monastic life. He prays for the Diocese of Tyler and all of his brother priests here every day. Bishop Nevares was also a priest of the Diocese of Tyler and is now Auxiliary Bishop in the Diocese of Phoenix.
A beautiful aspect of our Catholic faith is that we remain connected to each other in the Body of Christ and in the family of the Church wherever we find ourselves. Let us remember these fine men in our daily prayers as we are assured that they remember us in theirs.
+Joseph
---
Bishop Strickland

Bishop Joseph E. Strickland was named the fourth bishop of Tyler in September of 2012 by Pope Benedict XVI. Prior to being named bishop, he served a number of roles in the diocese, including vicar general, judicial vicar, and pastor of the Cathedral parish. He was ordained to the priesthood in 1985.