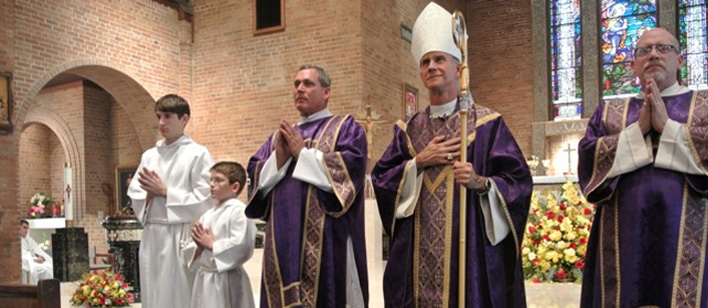 I've finally found a moment to greet you from bishopstrickland.com I hope you are enjoying these last days of January.
This past Monday I celebrated my two month anniversary as a bishop. The whirlwind has continued and in some ways the two months seem much longer. I continue to be blessed in my new role. The challenges are great but the people around me are greater and the blessings far outweigh the headaches.
I have been busy this week visiting our Catholic schools in celebration of Catholic Schools Week. It is great to see the kids flourishing. One little girl at St. Joseph's in Marshall amazed me with her poise and excellent diction. She was just about knee high and she offered the prayers of the faithful using some large words that would have challenged many adults. God has given all of His children gifts and it is a blessing to see those gifts unlocked in our Catholic Schools.
Even as we celebrate the great work our Catholic Schools are doing it makes me realize how hard we have to work to make these wonderful opportunities available to as many children as possible. Our schools are never an exclusive club but instead they are a resource for all. I thank the administrators, faculties, parents and community members who work so hard to make our schools stronger so that they can reach out to more and more kids. Wouldn't it be wonderful to say that every child in East Texas had the opportunity to experience Catholic education for at least a portion of their schooling. We are a very long way from realizing such a dream but I hope we can keep creatively working toward it. All of our children deserve the very best we can offer.
---
Bishop Strickland

Bishop Joseph E. Strickland was named the fourth bishop of Tyler in September of 2012 by Pope Benedict XVI. Prior to being named bishop, he served a number of roles in the diocese, including vicar general, judicial vicar, and pastor of the Cathedral parish. He was ordained to the priesthood in 1985.