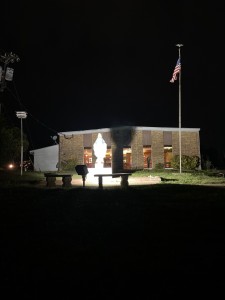 St. Louis de Montfort lived in the 17th and early 18th century and he was known as a holy confessor and preacher. This quote from his time speaks to our time also. Let us live in the Spirit he suggests "the holy names of Jesus and Mary" on our hearts.
The image speaks of these values for our Church and for our nation.
"They will be like thunder-clouds flying through the air at the slightest breath of the Holy Spirit. Attached to nothing, surprised at nothing, troubled at nothing, they will shower down the rain of God's word and of eternal life. They will thunder against sin, they will storm against the world, they will strike down the devil and his followers and for life and for death, they will pierce through and through with the two-edged sword of God's word all those against whom they are sent by Almighty God."
"They will point out the narrow way to God in pure truth according to the holy Gospel, and not according to the maxims of the world. Their hearts will not be troubled, nor will they show favour to anyone; they will not spare or heed or fear any man, however powerful he may be. They will have the two-edged sword of the word of God in their mouths and the blood-stained standard of the Cross on their shoulders. They will carry the crucifix in their right hand and the rosary in their left, and the holy names of Jesus and Mary on their heart. The simplicity and self-sacrifice of Jesus will be reflected in their whole behaviour."
---
Joseph Strickland

Bishop Joseph E. Strickland was named the fourth bishop of Tyler in September of 2012 by Pope Benedict XVI. Prior to being named bishop, he served a number of roles in the diocese, including vicar general, judicial vicar, and pastor of the Cathedral parish. He was ordained to the priesthood in 1985.