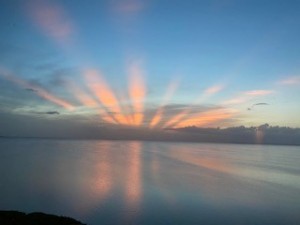 Saint John Henry Newman wrote these words about 170 years ago regarding the feeling of a great Cathedral. Although I consider our Cathedral of the Immaculate Conception to be a gem, some of what Saint John Henry evokes is not our reality. As we enter into Holy Week it is our reality that the purposes of God's House are always to call us into the glorious supernatural truth of our faith. Especially as we are blessed to return to a much more incarnate and robust celebration of Holy Week this year, I believe the great saints words can truly inspire us to recognize our blessings more deeply.
"as I have said for months past that I never knew what worship was, as an objective fact, till I entered the Catholic Church, and was partaker in its offices of devotion, so now I say the same on the view of its cathedral assemblages. I have expressed myself so badly that I doubt if you will understand me, but a Catholic Cathedral is a sort of world, every one going about his own business, but that business a religious one; groups of worshippers, and solitary ones – kneeling, standing – some at shrines, some at altars – hearing Mass and communicating, currents of worshippers intercepting and passing by each other – altar after altar lit up for worship, like stars in the firmament – or the bell giving notice of what is going on in parts you do not see, and all the while the canons in the choir going through matins and lauds, and at the end of it the incense rolling up from the high altar, and all this in one of the most wonderful buildings in the world and every day – lastly, all of this without any show or effort – but what everyone is used to – everyone at his own work, and leaving everyone else to his." (Letter, September 24, 1846)
Let us rejoice more profoundly than ever in all that our Catholic faith, the Bride of Christ, offers us.
---
Bishop Strickland

Bishop Joseph E. Strickland was named the fourth bishop of Tyler in September of 2012 by Pope Benedict XVI. Prior to being named bishop, he served a number of roles in the diocese, including vicar general, judicial vicar, and pastor of the Cathedral parish. He was ordained to the priesthood in 1985.