The following letter will appear in the Tyler Paper print edition on Sunday, Oct. 13, 2019.
Dear Fellow Christians,
I write to you as bishop of the Roman Catholic Diocese of Tyler.
Let me say from the outset that I write with great respect for every baptized Christian who seeks to follow Jesus Christ. In fact, I am your brother in the One Lord, Jesus Christ. Although there are questions and some doubts, at least among some Christians, whether or not Catholics are Christians, I can assure you, Catholics are Christians. As a Catholic bishop, I believe in Jesus Christ, the Son of God as my Lord and Savior who lived, died and rose for all humanity. I believe my work as bishop is to call all the baptized closer to Jesus Christ. And, to call all men and women to repent and turn to Jesus Christ, accepting Him as their Lord and Savior.
Today, on the occasion of the 102nd anniversary of the final apparition of Our Lady of Fatima and in light of my profound responsibility as a bishop, I want to address one aspect of Catholicism that often causes our fellow Christians to reject us as true brothers and sisters. This issue has to do with our Catholic devotion to the Blessed Virgin Mary. Let me begin by emphatically stating that, as Catholics, we do not worship Mary. She is not divine and we believe she would be the first to correct any disciple who begins to treat her as divine. Mary, the Mother of God is not God and Catholics believe, along with all Christians, that worship of Mary or any other man or woman is blasphemy.
Having attempted to clarify this long-standing misconception regarding Mary, the mother of Jesus the Lord, I want to explain why Catholics hold Mary in such great esteem. Catholic devotion to Mary as the greatest woman who ever lived is based on what the Bible teaches us about her. All four Gospels and the Acts of the Apostles speak of Mary in significant ways (see Mt. 1:18-25; Mk. 3:31-35; Lk. 1:26-38; Jn. 2:1-11; Acts 1:13-14).
As Catholics, we can summarize the message of these bible verses in this way: Mary is the first and greatest disciple of Jesus Christ. She exemplifies her discipleship upon the angel Gabriel's announcement of God's plan for her to be the mother of His Son when she responds, "let it be done to me according to your word." Catholics are devoted to Mary, first and foremost, because she models our Christian call as disciples. We answer to this call each time we dare to pray the Lord's Prayer saying, "thy will be done." The Catechism of the Catholic Church explains:
What the Catholic faith believes about Mary is based on what it believes about Christ, and what it teaches about Mary illumines in turn its faith in Christ. "God sent forth his Son", but to prepare a body for him, he wanted the free co-operation of a creature. For this, from all eternity God chose for the mother of his Son a daughter of Israel, a young Jewish woman of Nazareth in Galilee, "a virgin betrothed to a man whose name was Joseph, of the house of David; and the virgin's name was Mary" (487-488).
I hope you will accept this humble invitation to understand our Catholic devotion to Mary more clearly and consider how she can be a companion on your journey to deeper life in Jesus Christ. All the faithful Catholics of the Diocese of Tyler join me in extending a hand of fellowship and esteem for all of our brothers and sisters in Jesus Christ. May we seek Him, together.
+ Joseph E. Strickland
Bishop of Tyler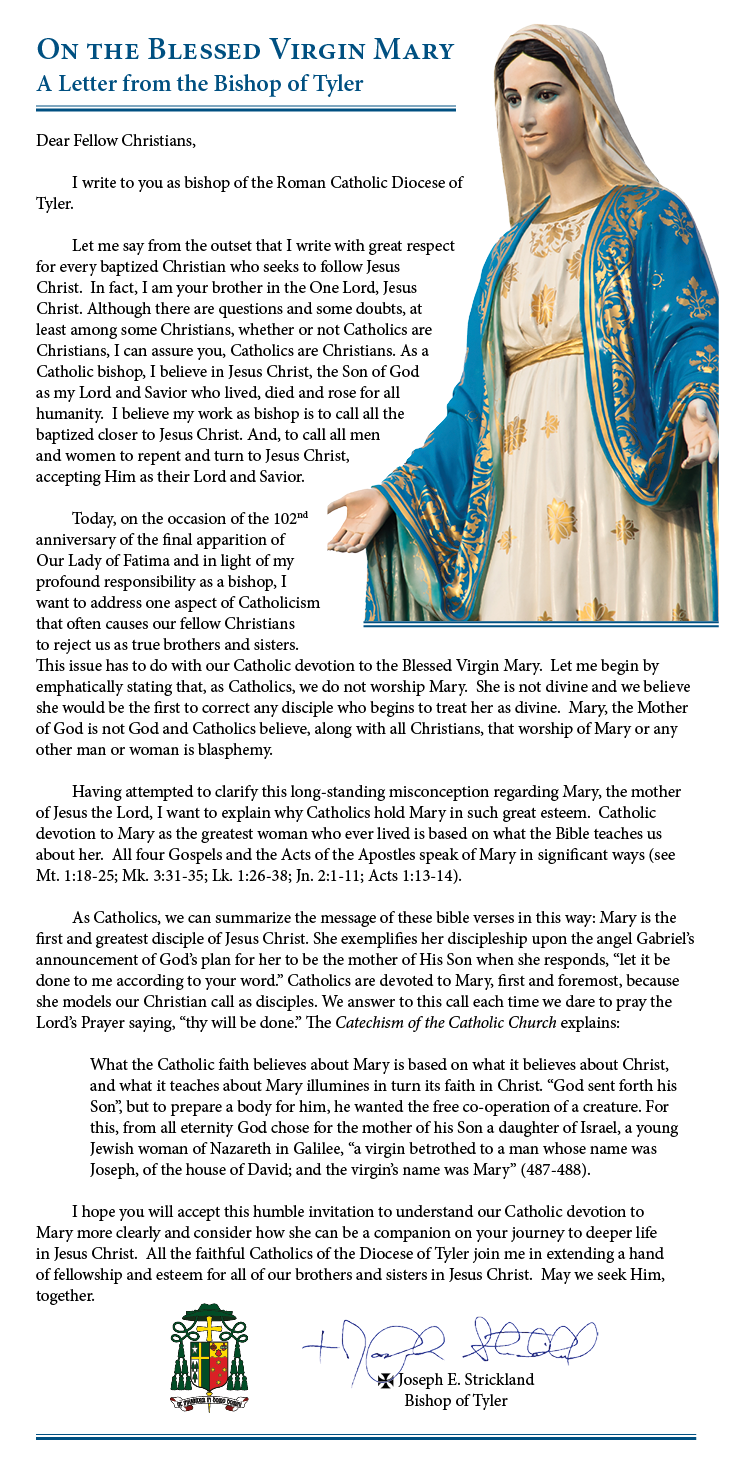 ---
Bishop Strickland

Bishop Joseph E. Strickland was named the fourth bishop of Tyler in September of 2012 by Pope Benedict XVI. Prior to being named bishop, he served a number of roles in the diocese, including vicar general, judicial vicar, and pastor of the Cathedral parish. He was ordained to the priesthood in 1985.