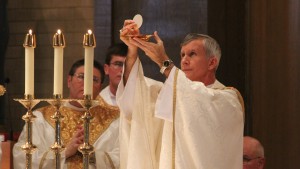 As we reach the mid-point of January 2020 I'm encouraging everyone in the Diocese of Tyler to focus on coming closer to Jesus Christ in His Eucharistic presence.
Some things to consider..........
1. Do you plan to receive the Body of Christ at Holy Mass this Sunday, the 2nd Sunday in Ordinary Time? If you do plan to receive pause for a moment to consider whether you are deeply aware of who you will be receiving. Are there ways you can receive Him more reverently with a greater focus on the wondrous gift He is in your life?
2. If you don't plan to receive the Body of Christ at Holy Mass this Sunday, why not? Do you need to go to confession? Are you in a relationship that makes it inappropriate for you to receive the Body of Christ? Do you need to address some other obstacle that is preventing you from receiving Communion? I encourage you to take whatever steps you need to in order to be properly disposed to receive the Body of Christ at Holy Mass.
If as you read this you are thinking "I'm not worthy to receive the Body of Christ", I have to say you are right. I'm not worthy either, none of us are worthy. At every mass immediately before receiving Communion we all acknowledge publically that we are not worthy with these words, "Lord I am not worthy that you should enter under my roof but only say the word and my soul shall be healed". Let us really listen to what we are saying and humbly approach the Lord to receive His Body and Blood. It is true that if we are in a state of mortal sin we should not receive the Body of Christ but Christ invites us to remedy this situation by going to confession and making a firm purpose of ammendment of our lives so that we may be nurtured by His loving presence in the Eucharist. If you are living in a lifestyle that is contrary to Gospel virtue and makes you prone to commit serious sins then in order to receive as worthily as possible you should change the pattern of your life. The door to Christ and His love is always open to us, He longs for us to receive Him but He calls us to live more and more as members of His Body so that we can fully benefit from the spiritual nourishment His Body and Blood offers us.
Let us pray for each other.
Bishop Joseph Strickland
---
Joseph Strickland

Bishop Joseph E. Strickland was named the fourth bishop of Tyler in September of 2012 by Pope Benedict XVI. Prior to being named bishop, he served a number of roles in the diocese, including vicar general, judicial vicar, and pastor of the Cathedral parish. He was ordained to the priesthood in 1985.